Chiara (13) is one of the youngest tutors in the group begin trained for Coding Girls [1]. She has enthusiastically accepted the challenge to teach primary school girls to code.
"Coding makes me feel well," Chiara confesses to Cecilia Stajano, FMD School Innovation Coordinator, during one of the long training sessions held to prepare for the arrival of American Coach Emily Thomforde, Code Educator and Science Technology Engineering Art and Mathematics (STEAM) Specialist.
Ascolta #Codingirls, Chiara: "L'informatica mi fa sentire bene"" su Spreaker. [2]
During the session, Chiara worked with Erika, who is a few years older and confesses with tongue in cheek that she wants to become a nerd, because computer science gives you an added dimension. And Erika can't wait for Coach Emily to arrive, either!
Ascolta #Codingirls, Erika: "L'informatica ti aiuta a semplificare le cose"" su Spreaker. [3]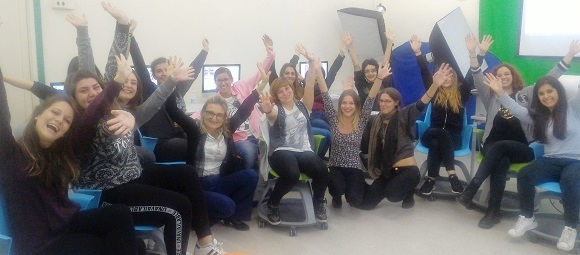 The third edition of Coding Girls, the project promoted by the Fondazione Mondo Digitale and the American Embassy in Italy, in collaboration with Microsoft, has given rise to the first Summer School to train new coaches that will be able to transmit their viral enthusiasim to their peers.
Last summer, 60 young female students in Milan, Naples and Rome attended the training sessions. Now, the girls are at work on providing wide-ranging training in 15 classes in 12 schools for a total of 450 young female students.