Twenty-two-year-old Samuele Sciacca is proud of his humble origin. He worked hard and transformed his great passion into a job. And his enthusiastic words, full of passion and energy, transmit his good mood to anyone listening to him with a simple "Hi."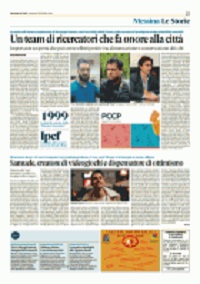 Yesterday's Gazzetta del Sud [1] daily published the story Samuele Sciacca [2], 22, Advergame Developer, a new coach for Programme Ambizione Italia for Schools [3]. After graduating from the Istituto tecnico Jaci in Messina at 18 anni, Samuele moved to Milan to look for jobs in the videogame sector. "I was still very green. I faced my failure and returned home with a certainty. This experience had tempered me." Samuele then went to London, where he washed dishes, but after four months, he was called by a multinational...   
I now work for various clients [...]. I teach artificial intelligence and programming with the Fondazione Mondo Digitale to elementary, middle and high school children. The project, which is called "Ambizione Italia for Schools," is promoted by Microsoft and the Fondazione Mondo Digitale. I have transformed my passion into a job in a city that really has a thousand opportunities."
They had told him "You'll get nowhere with that computer." Now, at 22, he is respected in Milan.
Samuele, Creator of Videogames and Optimism
With a diploma from the Jaci School, after washing plates in London, Samuele now teaches children, too.
Gazzetta del Sud, Messina edition, Oct. 20, 2019 
Article on-line (in Italian):
Da Messina a Milano: Samuele, il creatore di videogiochi che insegna ai ragazzi [4]
Gazzetta del Sud