The Fondazione Mondo Digitale will be at the first edition of Re-Barcelona [1] (Nov. 29-30), an international forum on the sustainable and ethical fashion industry, with Director General Mirta Michilli [2] and Matteo Viscogliosi, Coordinator of the Fab Lab at the Phyrtual Innovation Gym [3]. The designers who participated in Project  Digital Made [4] will showcase two articles of clothing: Atypical (winner of the first edition of the Digital Made [4] Contest), developed by Federico Cesino and Anna Coppola (Accademia di Belle Arti, Naples) in collaboration with the Fab Lab Frosinone, and Hypernova by Carmen Moffa (Accademia di Belle Arti, Frosinone).
Mirta Michilli [2] will participate in the "Mindset: Redefining Growth" roundtable that will be held at the Auditorium on Friday 29 (3:45 pm) and on Saturday 30 will present Digital Made (11.10) at OpenSpace. 
Remember that the deadline for the second edition of the DIGITAL MADE [5] Contest has been extended to December 7, 2019 [see notice [6]].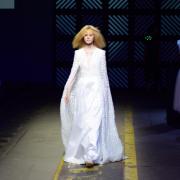 Atypical | Fab Lab Frosinone and ABA - Naples | Anna Coppola and Federico Cesino
Hypernova | Accademia di Belle Arti - Frosinone | Carmen Moffa