Microsoft volunteers continue to volunteer as educators for the Microsoft Give Campaign, connected to Programme Ambizione Italia for Schools [1]. Yesterday, the Microsoft House hosted an interactive session on artificial intelligence with Marcello Marchetti. Today, Raffaella Canobbio [2] will meet with students from the Istituto comprensivo II Via Stelvio [3] (Cesano Maderno, Province of Monza-Brianza) in the AI Class.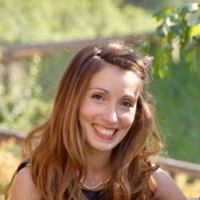 Raffaella, PFE & Consultant Manager, has been with Microsoft for nearly 16 years. She discovered her passion for computer science after having studied Physics and abandoned the "dear theoretical world of neutrinos" to work as a developer. Then, in 2004, she began her quick career at Microsoft thanks to her smarts and ability to come up with solutions to new problems.
Today's double challenge is new, too. She will not only have to explain a range of different applications of artificial intelligence to a class of pre-adolescents who have no prior knowledge about the subject, but also demonstrate that a young woman can obtain significant results in a scientific or technological field, if she freely choses to do so.
"During my free time, I like to go into the countryside. I love reading English and French novels from the 19th century and I listen to a lot of rock," she writes to Raffaella. And adds that she "runs, runs, runs …"
We all have to change pace with her and start to run if we really want to reach gender equality in the working world.