You still have time to sign up for the virtual competitions of RomeCup 2021 [1]. The deadline has been extended to April 15 [see regulations [2]].
The Italian Championship robotics trials, in collaboration with RoboCup Junior Academy [2], will be held virtually in a wide range of technical activities, both synchronous and asynchronous, including documentation, live video trials, interviews [see news RomeCup and RoboCup Junior [3] including an interview with Raimondo Sgrò [4], National Italian Coordinator for RoboCup Junior [5]].
Who will place first at the next World Robotics Championships (June 22-28)?
Italian Championship Trials
ON STAGE – one or more "dressed up" robots perform with human beings, moving about creatively, interactively and collaboratively.
Registration Form
SOCCER – football/soccer robots play in an enclosed dynamic environment running after a special light-emitting ball.
Registration Form
RESCUE LINE – a challenge amongst rescue robots. The objective is to complete the mission, saving the victims after having overcome all the obstacles.
RESCUE SIMULATION – teams compete in virtual worlds to develop and programme an appropriate strategy to win objects.
Registration Form
Due to the ongoing Covid-19 health emergency, the 14th edition of RomeCup [1] (April 27-30) will be held as a phyrtual (physical and virtual) multi-event integrating the comfort of our households with competitions and virtual classrooms to share with peers who may be thousands of miles away. ROMECUPLAY has no boundaries. It's even on your smartphone, where you can follow the finals or meet a champion ...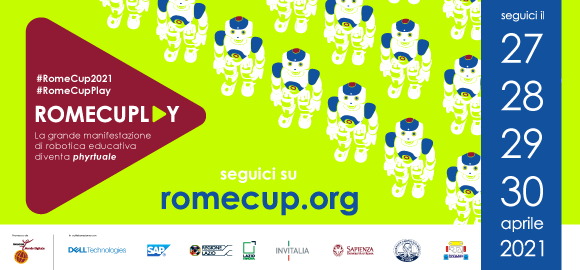 [1]