The tutor who introduced over-65s to digital technology
Discoveries and technological innovation appear so quickly that it is hard to keep up. We live in an age of transformation, accelerated by the pandemic, which has revolutionised the ways in which we live, learn, and socialise, simplifying and accelerating daily processes and practices. Many personal services are now available on-line. Think about shopping. We can buy anything on-line, from books to medicines, bread to electrical appliances. A simple click allows us to avoid a queue at the post office. We can use an app to monitor our expenses, transfer money and pay for our utility bills.
Technology is evolving far faster than our ability to understand its uses, potential and risks. This is true both for individuals and communities. A democratic knowledge society needs to govern the change provoked by digital transformation. It must be as inclusive and a fair as possible, and everyone must be allowed to participate.
Introducing over-65s to new digital technology is a civic responsibility, but also a social necessity.
The Fondazione Mondo Digitale has always believed in the value of employing young men and women to fight the social exclusion of elders. In fact, the intergenerational learning model – young teaching elders to use PCs, web and technology, in general – has become a national and international reference point. And a true welfare school.
As part of the ESG Italy Educational Program, Unicredit, with the contribution of the Fondazione Mondo Digitale and the participation of TechSoup and the Italian Postal Police, promotes OfficinaDigitale – Digital Workshop, a course on digital and financial education that aims to reinforce skills and the use of digital tools to promote the independence and social exclusion of citizens aged over 65.
OfficinaDigitale includes two in-presence sessions at UniCredit offices or other local associations, one on-line meeting to practice acquired skills and a video that will help participants better understand what they studied in class.
The on-line meetings are held by young tutors from the Fondazione Mondo Digitale.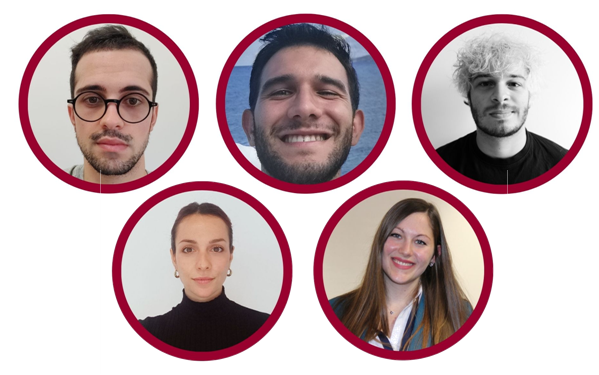 COACHES
I believe technology is a process of improvement without goals and I'm happy to participate in it. I'm proud of being able to improve the lives of people participating in this project with tools they didn't know how to use before.
Gianmattia Mignone, student
Helping others to explore the opportunities provided by digital media encourages me to think like my interlocutors and rediscover, through their doubts, new outlooks. In my classes, I discover new conceptual bridges that allow me to travel in time thanks to the stories that I hear. I'm awed by the complexity of the relationship between mankind and technology. It is not technology that changes a culture, but mankind that changes technology based on their culture and needs.
Andrea Santoro, Digital Anthropologist
Since I was a child, I have always been immersed in technology and have understood that it is indispensable to everyone. It is essential to explain its importance and teaching those who are still confused how to use it, so that as many people as possible will learn about all the incredible things it can accomplish.
Francesco Appella, university student 
I believe technology is a necessary means that facilitates everyday life, from the simplest actions, like calculating that fastest route to a place, to the most complex ones. Moreover, it shortens distances and allows us to keep in touch with those who we do not see often. So, I can affirm that technology does not only embrace the sphere of functionality, but it also is a precious means for relationships and friendships.
Sara Magrini, student
Technology shapes our lives. It allows us, through tools and methods, to move beyond the reality that we know and to solve problems in increasingly efficient ways in all fields. I hope that technology and humanity will learn to live together without clashing and helping us to live better in a better word.
Roberta Coluccio, student